5 Reasons Community Colleges are a Great Investment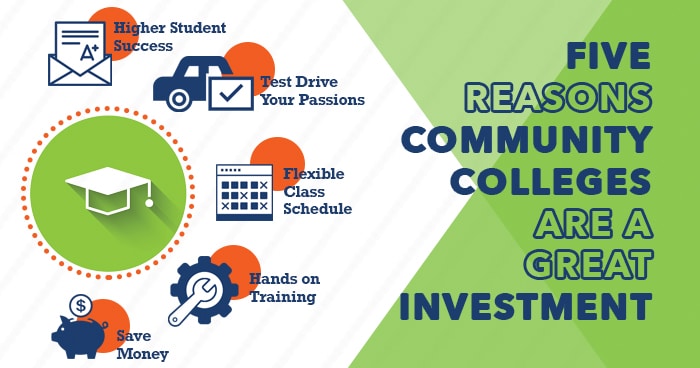 Reviewing your college choices? You have a LOT of options. Making the right choice can have a huge impact on your future. The Community College Research Center (CCRC) at Columbia University estimates that over one-third of all students taking college classes were enrolled at a community college. You may be asking yourself, "What do those students know that I don't?" That's ok! We'll give you our top 5 reasons why an investment in a community college just makes sense!
Student Success
Yes, really! Community colleges have smaller class sizes which means you have more one-on-one instruction with your professors. That means you get to know the people who are teaching you, and community college students build great relationships with their instructors. This makes it easier for you to be engaged, retain information, and seek the support you need.
Discover Your Passions
Community colleges offer robust campus life opportunities. That means you can live in student housing, have roommates, eat in the dining centers, and get involved with clubs and co-curricular activities. You can do all that while taking your general education requirements that will transfer to a 4-year school. You can take a wide variety of classes to help you discover what exactly you want to do for your career.
Flexible Class Schedules
Lots of students need to work while they attend school, including community college students.  Who doesn't want to earn a little extra cash and build your resume at the same time? But that makes it especially important to find classes that fit in with your busy schedule. Community Colleges offer a variety of class types from in-person instruction to degree options entirely online! Community colleges also offer dual credit classes for high schoolers and usually have agreements with 4-year schools to be dual enrolled at the community college and the university at the same time!   Iowa Valley Community College District also offers many evening and weekend classes like Nurse Aid Training, Advanced Web Design, and Welding. to help jump-start your degree program.
Hands-On Training
Maybe you aren't interested in getting a bachelor's degree, or it makes more sense for you to get specialized training. Community colleges specialize in preparing students to enter their chosen field right away! Classes are geared toward providing students with the exact skill set and knowledge base to succeed on Day 1 of the job! Plus, community colleges in Iowa have scholarships for these specific high-demand jobs that cover students' tuition if they meet certain requirements! You read that right, you could get FREE TUITION if you are enrolled in an eligible program.
Affordability
It is essential in today's economy to make your dollars stretch. CCRC at Columbia said that tuition and fees for community college students in the 2017-2018 school year were about $3,500 for a full-time course load. While students at public 4-year schools paid over $10,000 for the SAME classes! We know. It's crazy. Not only do students pay more at 4-year schools, but they also end up taking out more student loans and have higher student loan debt when they graduate. Remember when we said lots of college students have to work while attending school? Yeah, we do too. So, whether you are looking to get a bachelor's degree or hoping to go straight into the workforce, community colleges can put you on the track to success right away.
Both Marshalltown Community College and Ellsworth Community College have programs designed to help you pursue your passions – AND fit your budget. What are you waiting for? Learn more at IowaValley.edu.