Living on Campus: Frequently Asked Questions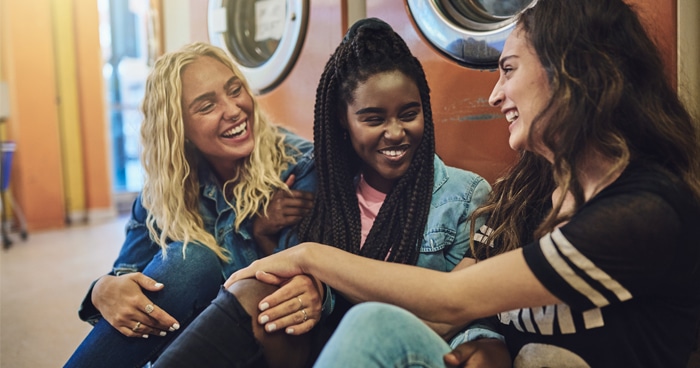 Having a roommate, living in campus housing, and getting involved in residence life are quintessential aspects of the college experience.  Read on to find answers to the most often asked questions.
What are the housing options?
Both Ellsworth and Marshalltown offer on-campus housing options.  Ellsworth has traditional and apartment-style residence halls, while Marshalltown's are all apartment-style.  No matter what type of housing you live in, students who choose to live on-campus participate in campus life activities and take advantage of the short walk to campus.
Are meals covered with my room and board?
Each student living on campus is required to have a Meal Plan. Ellsworth students eat at the cafeteria in the Gentle Student Center.  Breakfast, lunch, and dinner are served during the week.  On Saturday and Sunday, the cafeteria is open for brunch and dinner.  The cafeteria at Marshalltown is in Faust Student Union and serves a hot breakfast, continental breakfast, lunch, and dinner during the week with brunch and dinner on Saturday and just dinner on Sunday.
Do I get to pick my roommate?
At Ellsworth and Marshalltown, you may request a roommate preference through the housing application.  Housing staff will grant your request pending on the availability of space and the date the request is made, but the College reserves the right to make the final decisions on room assignments.  If you want to switch rooms or change roommates, because sometimes two people just don't mesh, you can always talk to staff in the office of your residence hall.
Can I bring my car to campus?
You bet!  Marshalltown students can drive right up to their dorm.  Ellsworth students will need to fill out a vehicle registration card at check-in.  You will then get a parking permit to place in the lower corner of the passenger's side back window.  There are parking lots adjacent to all IVCCD student housing, but check out the campus map to scope out the best parking spots for Ellsworth and Marshalltown.
What safety measures are in place on campus?
Both Marshalltown and Ellsworth have procedures in place to maintain students' safety while on campus which can be found in The Guide to Residence Living (MCC) and Student Housing Policies & Procedures (ECC).  Emergencies that occur in Residence Life/Student Housing should be reported to Residence Life staff by contacting the appropriate facility's front desk.  Ellsworth students can also contact the Campus Security Office that is housed in Bullock Jones Hall. All IVCCD students are automatically enrolled in the Emergency Notification System (ENS) which will send you an email or text to alert you of any critical information like a snow day or an incident emergency that could affect the safety of students.
When are move-in and move-out dates?
Move-in for the semester is the weekend before classes start, and move-out is the Friday of Finals Week.  For specific dates, see Ellsworth's Housing & Residence Life page or Marshalltown's Housing & Residence Life page.
What furniture is already in the residence halls?
Major furniture such as beds, mattresses desks, dressers, and desk chairs are available in all campus housing.  The apartment-style housing also includes couches, chairs, and kitchen appliances.  You'll be responsible for personalizing your space with all the things that make a place feel like homes such as bedding and décor.  You are also responsible for maintaining the cleanliness of your space. (Better ask your parents for their cleaning hacks and brush up on your laundry skills.)
What is the cost to live on campus?
Housing costs depend on where you live and if you have a roommate.  You can find Marshalltown's housing rates HERE and Ellsworth's HERE.
How can I contact Residence Life & Housing staff for an incident or after hours?
If you need to contact a staff person after hours, your first call should be the RA on-call.  For emergencies, always call 911 first.  MCC's on-call number is 641-485-0942.  ECC's RA on-call number is
What will my mailing address be?
Ellsworth mailing addresses will all be
Your Name
Your Building
1100 College Ave.
Iowa Falls, IA 50126
Marshalltown mailing addresses will all be
Your Name
Marshalltown Housing
110 College Drive, Apt #
Marshalltown, IA 50158