Residence Life: Benefits of Living On-Campus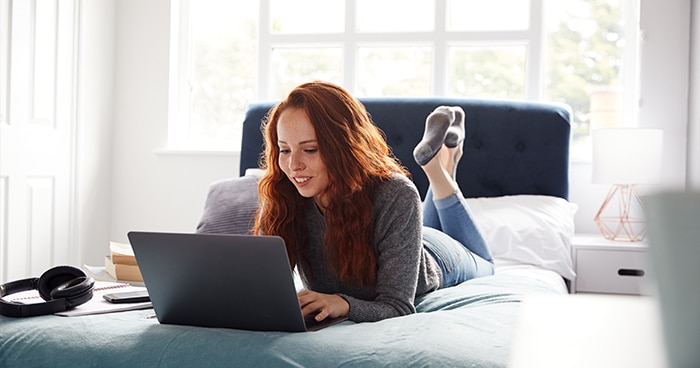 When you dream about your college experience, you are probably thinking about living in the dorms, having a roommate, and going to games or checking out activities together. It's easy to get involved on campus when the social activities are just a short walk away. And, let's face it – living on campus can be a fun way to meet people. Not convinced?  
Convenient Location
Imagine having everything you need – classes, the dining hall, activities, and friends – just a short walk away. You have resources like the library and student success center (or the Hub) just steps from your room. On rainy or snowy days, you don't have to worry about getting in your car and driving to campus – you're already there.  
No Furniture to Buy
When you live on campus, your dorm room will typically come with a bed, desk, closet, chest of drawers, and all of the basics. Living away from home is much more affordable when you just need to supply the sheets, laundry basket, and things to make it feel like home.  
Activities Are Close
Are you looking for something to do to break up your study sessions? When you live on campus, you can always find something to do, whether it is college-sponsored or just hanging out with your friends from down the hall. Each college puts on several activities to keep students active and engaged, but don't limit yourself to college-sponsored activities: grab a friend and create your own fun! 
Adulting
 for Beginners
If you've never lived on your own before, college is an easy way to transition. You won't have your parents telling you what to do, but you will have onsite Resident Assistants (RAs) to keep you on target, as well as a full college staff that can act as resources. It's an easy way to get used to making your own decisions. (And yes, if you're wondering, it probably IS time to do a load of laundry!)  
Safety
Colleges are responsible for keeping a safe and secure environment. Schools have safety protocols in place, and are managed by college staff. If you live in an apartment off-campus, you don't have control over who your neighbors are, and who you can reach out to with questions or concerns. That's not the case when you live on campus.  
Higher GPA
Would you believe that students who live on campus tend to do better academically than those who commute? Not only do they have a higher GPA, but they also complete more credit hours. You may attribute it to ready access to on-campus resources, or having a study buddy that lives in your dorm. No matter what causes it, it's a great benefit of living on campus.  
Minimal Expense, Maximum Reward
Living on campus at Iowa Valley is affordable – the room and board expense cover dorm or apartment-style living, as well as a meal plan. You don't need to pay extra for internet, cable, heat, or water; that is all included in the expense. You don't even need to prepare your own meals with a meal plan, though many dorms come with a small kitchen.  
Don't take our word for it – see for yourself. Take a tour of the residence facilities at Ellsworth Community College or Marshalltown Community College. And when you apply, consider living on campus so that you can get the four-year experience in two years!