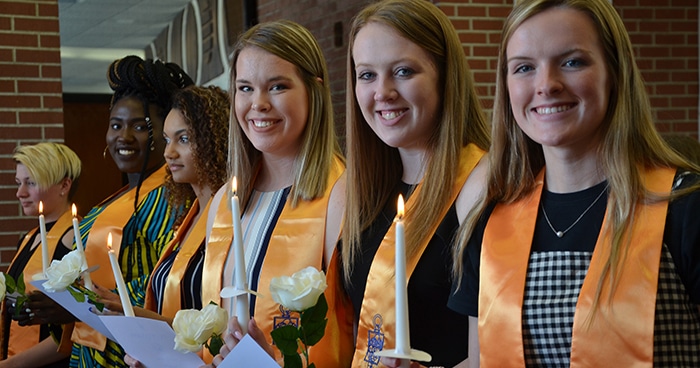 You may have seen the posters around campus – "Join PTK." It sounds like a secret society, and looks like a big deal… but what is it? And why should you join? We answer some of the most frequently asked questions here.
What is PTK?
Phi Theta Kappa (or PTK) is the international honor society of students pursuing higher education, seeking associate's degrees, bachelor's degrees, or other college credentials. According to the PTK website, there are over 3.5 million members worldwide.
The schools at Iowa Valley are part of the Phi Theta Kappa Iowa Region. PTK Iowa Region is a 5-star region, which means Iowa Region received the highest rating for 2020. This paves the way for students to become Regional Officers and represent Iowa at International Events.
Can Anyone Participate?
PTK is an honor society, which means that it is designed for high-achieving college students. The American Association of Community Colleges has named Phi Theta Kappa the official honor society for two-year colleges.
What Are the Membership Benefits?
So, why join PTK? There are numerous membership benefits that will help you long after you graduate:
Recognition – After you are inducted, you will be recognized as a member, which is reflected on your college transcript. The honor society helps publicize your achievement, and you can list this as an honor on your resume long after graduation.
Scholarships – As a member, you are eligible for scholarships to help you complete your associate, bachelor's, even master's degrees. If you are studying for a career, there are some field-specific opportunities to cover the cost of certification and exam fees.
Career Training – Navigating your first job offer post-graduation can be nerve-wracking. Build confidence in the process by learning professional skills and employment training courses. As a member, you can also request letters of recommendation for job applications.
Transfer Success – PTK is recognized by four-year universities, so your academic credibility will stand out to the admissions team reviewing your transfer application. In other words, your membership will give you a competitive edge throughout the admissions process.
Leadership – As a member, you will have access to the Leadership Development Studies curriculum, not available to all students. You can hone your skills through leadership roles within your chapter, in service projects, and on campus.
How Do I Become a Member?
To join, you must receive an invitation from the Phi Theta Kappa chapter at your college. The local chapter determines eligibility, and requirements can vary by chapter.
When Am I Eligible to Join?
In order to join PTK, you will need to first be enrolled in a school that has a chapter. Once you have completed at least 12 hours of coursework towards your degree, or at least 6 hours of coursework for a 1-year certificate. Individual chapters may extend membership at 3.25 GPA, but nationally members are eligible for scholarships and other benefits with a 3.50 GPA (on a 4.0 scale). You will receive an invitation by mail or email from your local chapter when you qualify.
How Can I Learn More?
Each campus at Iowa Valley has a PTK chapter. Learn more about PTK at Marshalltown Community College, or Ellsworth Community College, or Iowa Valley Grinnell. If you have questions, reach out to the advisor on each campus, and they will discuss the benefits and your eligibility.