Is a Career as an Athletic Trainer Right for You?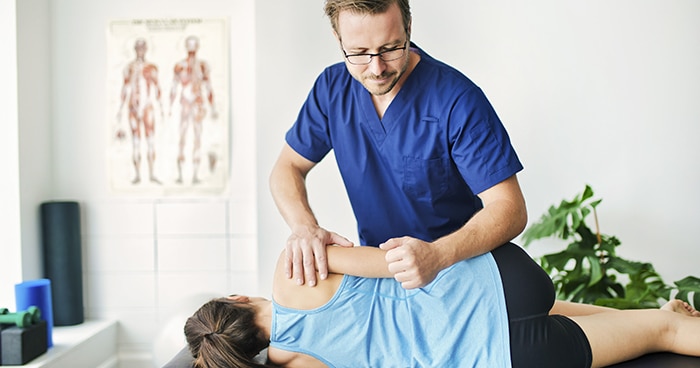 What do you picture when you think of an athletic trainer?  If you picture someone on the sidelines of your favorite sports team who rushes out on the court when an athlete gets injured, you wouldn't be wrong, but there's much more to the career than meets the eye.  We've laid out all the information you need to determine if a career as an athletic trainer is right for you. 
Never a Dull Moment
If the thought of sitting in a cubicle day after day sounds more like torture than a dream job, then you'll be happy to know that athletic trainers typically spend much of their day away from a desk.  You won't be able to get completely away from desk work – you might be responsible for keeping patient records and writing reports.  More often than not, you can find athletic trainers as an active part of any sports team or patient care team.  In addition to administrative tasks, job responsibilities include: 
A

pplying

 protective or injury-preventative devices such as tape or braces

 

R

ecognizing

 and evaluating 

injuries

 

P

roviding

 first aid or sideline care

 

D

eveloping

 and carrying out 

rehab 

programs

 

P

lan regimens to prevent 

i

njury.

 
Career and 
Employer Options
Sports teams aren't the only employer looking for athletic trainers.  In fact, as the medical field relies more and more on mid-level healthcare professionals, demand for athletic trainers will continue to rise.  Hospitals and clinics, physical therapists, high schools and colleges, military bases, and gyms or athletic training facilities are just a few possible employers in need of skilled athletic trainers.   
While "athletic trainer" might be the most common title, you'd also be qualified for positions like rehab specialists, personal trainer, kinesiologist, or wellness/occupational health manager, depending on the job description.  But be sure to read the job listing thoroughly to be sure you wouldn't need any additional education or certifications. 
Qualities of Athletic Trainers
It's important for athletic trainers to have formal education in their field, including a master's degree.  Most states also require certification or licensure. There are also some characteristics and traits that are common for many athletic trainers, but even if you don't resonate with all of these, you can still enjoy a rewarding career as an athletic trainer.   
An interest in health and wellness

 

Background in athletics can be helpful since many clients will likely be 

a

thletes.

 

Ability to think on your feet and be decisive in high-stress

s

ituations.

 

Exhibit compassion and have good people 

s

kills.

 

Enjoy variety in the workday, including 

working outside typical 9-5 

hours

.

 
Athletic Training at Iowa Valley
Now that you've decided that a career as an athletic trainer could be a good fit for you, it's time to choose where you'll study.  Iowa Valley offers an athletic training program at e the Ellsworth campus.  In this two-year, hands-on program, you'll be able to experience exactly what your future career would look like.  Our athletic training students provide support to athletic teams during practices training room hours, and home and away games under the supervision of our on-staff athletic trainers.  Our partnerships with local clinics enable students to observe sports injury surgeries and participate in physical therapy rotations for even more hands-on learning.    
"The athletic training program is designed so you can take what you learned in the classroom and apply it clinically that day.  Being able to learn outside the textbook and get hands-on experience is a huge strength of the program, and it truly sets you up to excel as you continue your education at a four-year university," says Ellsworth athletic training alum, Austin Smith.  Smith graduated in 2014 and is currently working as an athletic trainer for the Atlanta Braves Minor League baseball team.   
Don't wait, contact our Admissions team today to get a head start on your athletic training career!