What Can You Do with a Degree in Equine Management?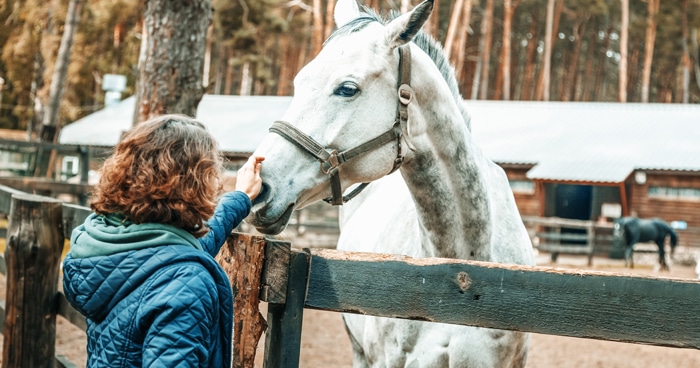 Are you passionate about horses? Do you find yourself spending more time in the horse barn than you do indoors? Have you been riding since you were a kid? Don't hang up your saddle just because you are graduating from high school. You can turn your love of horses into a career path tailored to you.  
What is Equine Management?
Equine managers are responsible for ensuring the overall wellbeing of horses in a variety of situations, such as boarding, training, transport, and breeding. Early in a career, equine managers may clean stalls and pens, turn horses out to exercise, and check bedding materials for pests. They continually observe horse behavior, since the behavior of the horse may indicate health problems. 
Equestrian managers also make certain that the horses' health, nutrition, and medical treatments are up to date. Additionally, managers are commonly responsible for the business side of the occupation. For example, equine managers may train employees and help in the preparation of horse auctions, shows, or events. As they advance in the profession or they might also manage facilities, schedules, and personnel and take care of marketing and budgets. 
A "Stable" Field
When you work with horses, your career options are varied. You could choose to be really "hands-on" or choose a career in a support field. Career possibilities include trainers, operators, riding instructors, breeders, handlers, feed representatives, stable managers, farm/ranch managers, breeding managers, foaling attendants, exercise riders, private lessons, animal control officers, boarders, therapeutic riding, horse show judging, equine journalism/advertising, saddle-making, and professional grooms. Potential employers include tack stores, vet clinics, animal health laboratories, farm suppliers, dude ranches, resort industry, service industry, publications, and the retail industry. The options are plentiful, and you can develop your interests over time.  
Equine at Ellsworth
Students interested in pursuing Equine Management can rest assured that they are entering one of the highest-rated programs in the nation. Ellsworth boasts the #2 Equine Management program by HorseSchools.com, but the Equestrian Center at the Hamilton Campus is second to none. Built in 2010, is an amazing state-of-the-art, climate-controlled facility that is overseen with assistance from our students. 
Ellsworth offers three different Equine programs, depending on your career interest: 
A one-year Equine Management Practitioner diploma program for those with a short-term career focus

 
A two-year Associate of Applied Science (AAS) degree for those who want to go directly into the workforce after graduation

 
A two-year Associate of Applied Science (AAS) transfer degree for those who want to transfer their ECC credits and complete a baccalaureate/bachelor's degree at a university

 
A degree in Equine Management from Ellsworth Community College is the ticket to a career working with horses. If you are passionate about horses and are considering a career working in equine management, come and tour the facilities.