What Can You Do with an Electro-Mechanical Degree?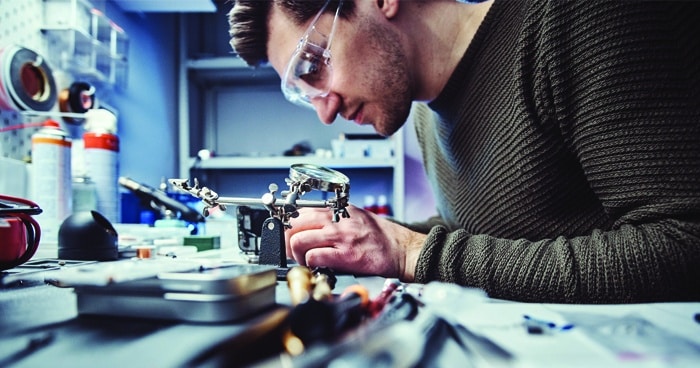 You love figuring out how things work. In middle school and high school, you have always been drawn to your STEM (Science, Technology, Engineering, and Math) courses because you get to examine things on a deeper level. You're happier in your CTE classes than some of your other classes, simply because the subject matter makes sense and you can see how it will apply to the real world. Does this sound like you? Consider an Electro-Mechanical Degree.  
What Will You Learn
When you study electro-mechanical coursework, you will learn fundamental mechanical skills (i.e. how things work.) You will use a lot of the basic tools of the electromechanical trade, as well as troubleshooting for mechanical, electrical, and fluid-based systems. You will understand the basics of Programmable Logic Controllers (PLCs) and how they are used in business and industry. And you will learn the fundamentals of electricity.  
Potential Career Tracks
When you have an Electro-Mechanical Degree (like the one offered by Marshalltown Community College) you will have a wide variety of career paths to choose from. Consider this: 
Engineer
Have considered a career in engineering? With an electro-mechanical degree, you could be on the fast track to an engineering degree and a career as an electrical or mechanical engineer. To be an engineer, you will need to earn a bachelor's degree, but you can begin with a two-year degree and transfer to a state school or a private college.  
Mechanical engineers design power-producing machines, such as electric generators, internal combustion engines, and steam and gas turbines, as well as power-using machines, such as refrigeration and air-conditioning systems. Mechanical engineers design other machines inside buildings, such as elevators and escalators. 
Electrical engineers design, develop, test, and supervise the manufacture of electrical equipment, such as electric motors, radar and navigation systems, communications systems, or power generation equipment. 
Industrial Maintenance
If a four-year school isn't right for you, that's OK. You could become an Industrial Maintenance Technician. An industrial maintenance technician is responsible for installing, maintaining, and repairing commercial and industrial machinery in a building or a manufacturing plant. You will perform typical duties that include ensuring all machines function properly through preventative maintenance service, conducting tests to ensure production machinery functions properly, and performing safety checks and routine maintenance. Industrial Maintenance Technicians are crucial to keeping everything running in most manufacturing facilities and are in high demand around Central Iowa. You can earn a great living with this degree.  
Choosing the Path Right for You
When you are reviewing your options, consider this: these programs are hands-on, meaning there won't be a lot of time sitting behind a desk. You will have the opportunity to work with some of the latest technology in the field and be on the cutting edge as companies develop and adopt new technologies and processes.  
The people who succeed in these positions are self-starters, and people with a healthy curiosity about how the world works. If this excites you, learn more about MCC's Electro-Mechanical Degree program today.  
Concerned about the college expense? Don't be – you could earn your degree for FREE.