The Future of Manufacturing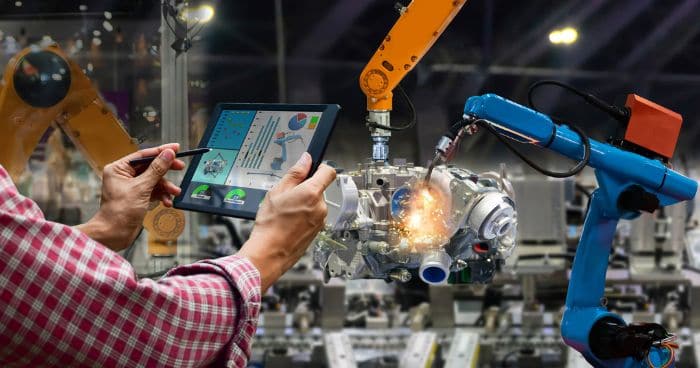 When you think about manufacturing, you may have images of dusty floors and labor-intensive conditions. If that is your image, it's time to take another look. Today's manufacturing centers are clean, modern, and centers of technology. Innovation is infused into every aspect as employers look to their teams for process efficiencies, and people adopt new and better ways of doing things.
In short, it's definitely not your father's manufacturing shop.
Industry 4.0
The first wave of the Industrial Revolution introduced us to mass production via assembly lines; the second wave incorporated electricity and power; the third wave introduced computer technology, and the Industry 4.0 builds upon this to leverage smart technology that relies on data and machine learning. The current wave adds an entirely new technology element and relies on more data to create efficiencies. There is a lot of large scale machine-to-machine communication.
If you think it sounds very futuristic like something out of a sci-fi show, you're right.
Evolving Workforce Needs
It's not just the machines that need to keep up; today's employees need to understand real-time data, information such as throughput, cycle times, mechanical breakdowns, and predictive maintenance. Companies require highly-skilled workers who are specialists in big data analytics to turn all that data into useful information that can transform productivity and efficiency. Experts in computer networking and network security are also needed to ensure that a company's data remains safe and secure.
How to Train Tomorrow's Employees
What does this mean for your employees? What does this mean for your next wave of hires? You are looking for people who are equipped to solve problems that you aren't aware of that you have yet. That's a tall order. You are looking for automation experts, and people who can troubleshoot with technical capabilities. You look around and see innovation all around you – and you need employees who can keep up with the pace your business is moving.
How Training Programs Can Help
Many manufacturers and industry leaders are relying on the technical training capabilities of the local community colleges. Community colleges and technical training programs, like the programs offered by Marshalltown Community College and Iowa Valley Continuing Education, can help you train employees with no background in manufacturing and take them through the basics, like safety and hand tools, and gradually builds to industrial competencies in areas like PLC troubleshooting, mechatronics, and data analytics, as well as learning to program and operate robotics systems.
Customized Training Solutions
Iowa Valley is equipped to do more than train for today's jobs – we can help you educate tomorrow's workforce. We understand that your business doesn't look or function like the business down the street. We have curriculum specialists that will help you customize a training program for your business. We can also assess where your employees are starting, and train to their unique skillset and capabilities. It sounds like a tall order, but it's a necessary part of your competitive edge in the workforce.
Industry 4.0 is here – and we can help you prepare your workforce for it. Contact us today about customizing training solutions unique to you and your manufacturing center.